EDB to PST Converter PRO

Best Choice for Exchange Administrators from last 7yr to Recover & Convert Mailboxes from Offline / Online Exchange Database Files (.EDB)
Convert mailbox from offline or dismounted .edb files
Extract mailbox items from offline edb to New Exchange Server
Export messages from Exchange Server to .eml & .msg mail format
Transfer emails & other items from Exchange (2013-5.0) .EDB file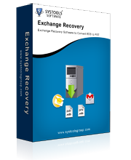 299 USD
EDB to PST Pro - Key Features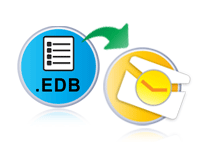 Convert Exchange Mailbox to PST Successfully
Convert Exchange Mailbox to PST files with software that guarantees the reliability of data conversion reserving the data safety, minimum time utilization, and maximum perfection. Conversion for emails from Exchange to Outlook from custom or default folders with email properties, email attachments and email formatting as it is conversion without data loss.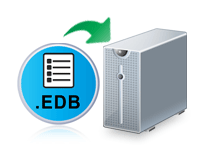 Migrate Exchange To New Server
Let us explain this interesting feature in EDB to PST converter with an example. Say you are an Exchange Server 2000 user, fed up of 16GB EDB file corruption issue and want to migrate to Exchange 2007/2010. In such situation, you need a solution to first Exchange EDB repair and then convert it to Exchange Server new edition directly. Our EDB repair software is provided with option to transfer recovered EDB file database to Exchange Server.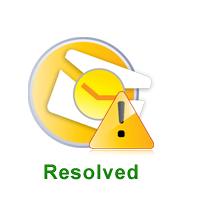 Fix Page/ Database/Application Level Corruption
Our EDB to PST converter solution is embedded with potential to handle JET Engine errors with effectiveness in results promised.

"1018 JET_errReadVerifyFailure": This commonly arising error message in Exchange Server is a result of file system level corruption.

"1019 JET_errPageNotInitialized": If the database files of Exchange Server comprises of incorrect data, it results in emergence of this error message.

"1022 JET_errDiskIO": If the parts of Exchange EDB file are missing or the application is unable to access it, then this error code flashes in screen.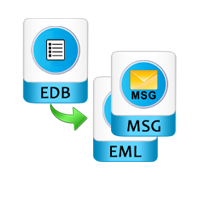 Restore Exchange EDB as MSG or EML Format
EDB to PST Converter can restore EDB emails to MSG or EML file formats, you can choose any one of these file formats to restore EDB emails & further use in different email-clients such as Outlook Express, Windows Live Mail, Netscape Entourage, Mozilla Thunderbird, MAC (Apple) etc.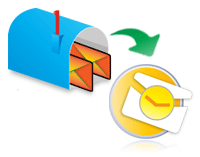 Opportune to Recover Password Protected Mailbox
If you have password protected Exchange mailbox and you do have password with you then also our Exchange Recovery tool will work for you and let you add mailbox data in Outlook PST (Mailbox account master password conversion). Reliable transfer of data from encrypted EDB mailbox is anticipated by user who faces EDB mailbox inaccessibility, damage, and corruption issues.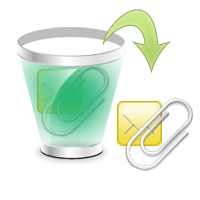 Recover Deleted Email Items and Attachments
Our online Exchange EDB to PST software comes with powerful technologies applying which you can recover and repair mail items like Calendar, Contacts, Deleted Items, Drafts, Inbox, Junk E-mail, Journal, Notes, Outbox, Sent Items, and Tasks along with file attachments. Due to comprehensive nature of the tool, complete mail data get recovered with unaltered data integrity.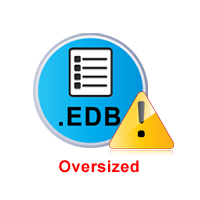 Manages Oversized Corruption Issues Effectively
The maximum limit assigned for storing data in an EDB file in MS Exchange server 2003 is 16 GB, 2007 50 GB & in latest version 2010 the limit is 1 TB. When Exchange Server mailbox database file exceeds this limit, it leads to emergence of error messages on screen together with inability to mount database. Our EDB to PST Converter software facilitates provision to resolve database mounting issues. Our solution to import EDB to PST has the potential to convert EDB size of about 1 terabyte to PST; so if you the user of Exchange Server 2010 and has large sized EDB to be converted, our software is available for help.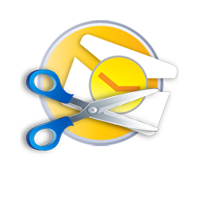 Choice to Split Bulky PST File
When you create a PST file using EDB to PST Converter tool, it possible to split the size of PST file into smaller partitions. Choose the size & break single large Outlook PST file into numerous smaller partitions which users can get help to easily manage the size.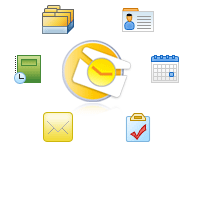 Work Around Database Mounting Issues
The consequences of Exchange Server crash or application version change can sometime leads to database mounting problems. For an instance Say to migrated from Exchange 5.5 to Exchange 2003. Now, when you try to mount the database, you fail to do so because the newer version of Exchange Server makes use of "First Administrative Group" where as the older one does not. Our EDB to PST converter helps you to escape from similar situations where you remain unable to mount database to Server.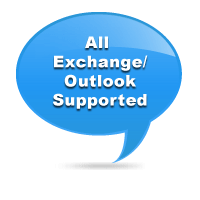 Support all Versions of Exchange/Outlook – Repaired all Data
Exchange EDB to PST Software takes high responsibility on its shoulders to recover and repair Exchange data like Priv1.edb file, pub1.edb file, mailbox database.edb file, and other data too. With complete support to Exchange (2013, to 5.0) and Outlook (2010 to 95) versions, tool has gained wide usage all over. User can preview recovered mailbox data before going for extract Exchange mailbox to Outlook PST or Exchange server database.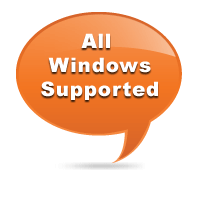 Full Support to all Windows OS Versions
The tool, Exchange Recovery that create individual PST for each EDB user mailbox gives interactive GUI can be run on all of the Windows OS editions such as Windows 2008, XP, Vista, Win 7 and rest of the editions. Now, no Windows user can be constrained from utilizing our product.